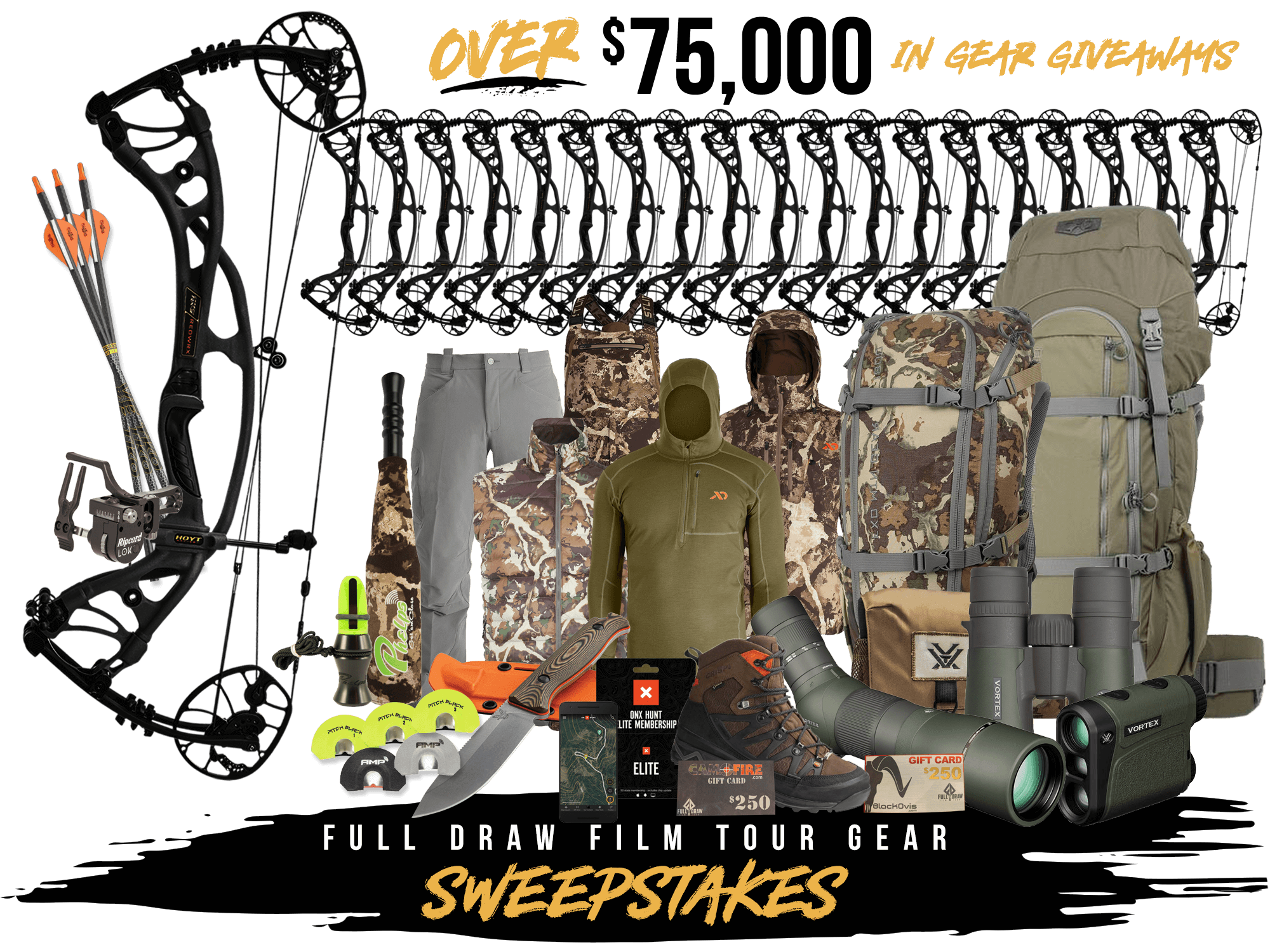 EVERY $20 SPENT = 1 ENTRY @ FULLDRAWFILMTOUR.COM
What's Included in the 2020 FDFT Gear Giveaway...
Gear giveaway Purchase Period July 20 - Aug 20, 2020
Every $20 dollars you spend at the Full Draw Film Tour online store will get you 1 entry to win a piece of gear shown below. We have over $75,000 in gear to giveaway! Hunting season is coming, don't miss out!
1 HAT + 1 SHIRT = 2 ENTRIES
Hoyt Archery (20) RX-3 Bows
Vortex Optics Razor HD Spotting Scope, 10x42 Razor HD Binoculars, Razor HD 4000 Rangefinder, Apparel Package. (5) Impact 1000 Rangefinders, (5) Diamondack Binoculars
First Lite (25) Packages & $1500 Gift Card
SEAK Jacket + SEAK Pants
Solitude Jacket and Bibs
Catalyst Jacket and Pants
Vapor Jacket + Boundary Pants
Uncompahgre 2.0 Puffy Jacket and Uncomp. Pants
Chamberlin Down Jacket
Obsidian Pants + Sawtooth Hybrid Vest
Sawtooth Hybrid Jacket + Kiln LG's-zip off
Brooks Vest + Ranger Snapshirt
Sawbuck Pants + Klamath Grid Fleece
Furnace QZ + Furnace boot tops-zip off
Corrugate Guide Jacket and Pants
Catalyst Vest + Ridgeline QZ
Guide Lite Pants + Wick Short Sleeve
Kiln Hoody + Kiln Boot Tops
Fuze QZ + Fuse boot tops-zip off
Tag Cuff Beanie + Shale Hybrid Gloves + Brambler Gaiters
Wick Hoody + Wick Long Boxers
FHF Harness and Rangefinder Pouch
Guide Lite Shorts + Aerowool Tech Tee
Women's Sanctuary Jacket and Bibs
Women's Catalyst Jacket and Pants
Women's Brooks + W's Alturas
Women's Obsidian + Cascade
Women's Wick Tank and Tee

Benchmade Knives (10) Knives - Hidden Canyon Hunter & Saddle Mountain Skinner
Crispi Boots (6) Pair Boots & Socks
Victory Archery (20) Packs of Arrows
Phelps Game Calls (20) Elk Call Kits (1 Tube, 1 External, 5 Diaphragms)
ONXHUNT (20) Elite Apps
Ripcord Arrow Rests (20) Rests: 10 Max, 5 LoK, 5 Drive
EXO Mountain Gear (4) Packs: 1800, 3200, 4800. 6400
CAMOFIRE.COM (10) $250 Giftcards
BlackOvis.com (10) $250 Giftcards